Our Process
THE ENVISION® PROCESS
PUT YOUR FINANCIAL PICTURE IN FOCUS
"How am I doing?"
This is the question every investor has for their Financial Advisor. The unspoken component of this question is almost always against my financial goals?"
The reality of why most of us invest is because we want to buy something in the future (retirement lifestyle, college for our children, major purchase, etc.) that we cannot currently afford. This much is obvious.
Why then are most investment planning tools not engineered to communicate investment progress toward these future goals? Well, this is why Envision was built. At its core, the Envision planning process was designed to redefine investing success away from simply showing if a portfolio has gone up or down, and toward the likelihood of being able to reach a specific goal or goals over a pre-defined period of time. The real genius of the tool is its ability to communicate information in a manner that even the least sophisticated among us can understand.
CHARTING YOUR PROGRESS
BRING NEW CLARITY TO YOUR LIFE GOALS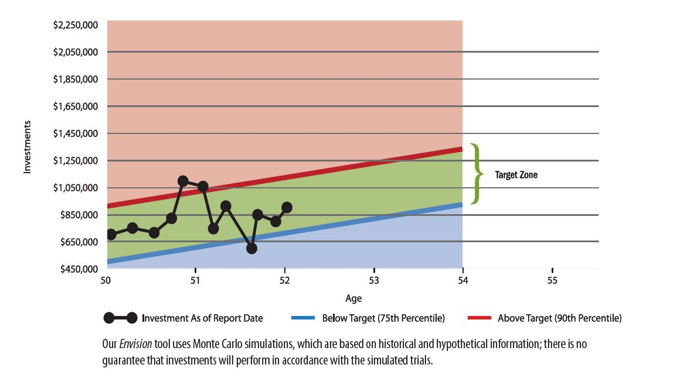 IMPORTANT: The projections or other information generated by the Envision tool regarding the likelihood of various investment outcomes are hypothetical in nature, do not reflect actual investment results, and are not guarantees of future results. Results may vary with each use and overtime.
ENVISION METHODOLOGY: Based on accepted statistical methods, the Envision tool uses a simulation model to test your ideal, acceptable, and recommended investment plans. The simulation model uses assumptions about inflation, financial market returns, and the relationships among these variables. These assumptions were derived from analysis of historical data. Using Monte Carlo simulation the Envision tool simulates 1,000 different potential outcomes over a lifetime of investing varying historical risk, return, and correlation among the assets. Some of these scenarios will assume strong financial market returns, similar to the best periods of history for investors. Others will be similar to the worst periods in investing history. Most scenarios will fall somewhere in between.
The Envision Target Zone also serves as a foundational tool when your goals or priorities change or when life events create a need to re-evaluate how changes affect your goals and priorities. Using your dot (see above), your Financial Advisor can update you on your progress as frequently as you want—monthly, quarterly, or annually.
We also serve individuals and businesses in all areas of investment planning, including:
RETIREMENT PLANNING
Help making the most of your employer-sponsored retirement plans and IRAs. Determining how much you need to retire comfortably. Help managing assets before and during retirement.
TAX MANAGEMENT*
Help making sure your portfolio is tax-efficient. Developing tax-efficient investment strategies. Referring you to qualified tax specialists.
ESTATE PLANNING*
Working with estate-planning and trust specialists available through Wells Fargo Advisors and its affiliates to help review your wills and trusts, preserve your estate for your intended heirs, establish beneficiary designations, reduce potential exposure to estate taxes and probate costs and coordinate with your tax and legal advisors.
EDUCATION FUNDING
Recommending investment and accumulation strategies to help you pay for your children's education.
RISK MANAGEMENT**
Reviewing existing insurance policies.
INVESTMENTS
Determining your asset-allocation needs. Helping you understand your risk tolerance. Recommending the appropriate investment vehicles to help you reach your goals.
EMPLOYEE AND EXECUTIVE BENEFITS
Helping your business attract and retain qualified employees through benefit packages.